Oh, it's been so long since my last post. Well, it's that time of year, when I'm immersed in Christmas crafting and lose all track of time!
Every year, I open my mind to inspiration, to see what new designs I can come up with for ornaments and decorations. It's obvious I've got a one track mind this year, because the common thread running through my creations is maps, with emphasis on turquoise and bronze copper. I'm quite sure it's due to my most recent painting creation,
this jewelry chest
.
So, without further ado, here are my designs for this Christmas............
You see what I mean? Can't seem to shake the obsession with maps,
compass roses,
and turquoise and bronze.
The globe ornament is decoupaged with copies
from one of my antique atlases.
All the maps in this book are printed with only cream, turquoise and orange.
For each ornament, I cut 2 circles (by hand. Oy.) from thick chipboard,
then folded them in half and joined the folds with glued paper strips.
After I added the map circles, I crackled the sealed surface to give it
the appearance of crazing of an old globe. I painted the chipboard edges
with metallic bronze as a subtle reference to the gold meridian on globes.
Topped off with a globe-inspired metal bead and textured chain.
The stars were also cut by hand from thick chipboard. I found this fabulous and brilliant turquoise German glass glitter. I painted a base coat of dark turquoise, alternating with a custom bronze-gold paint that I added gold pigment powder to to make it more brilliant. I also topped off these stars with the little globe-ish bead, and attached bronze-colored wire bent into a
graceful hook for hanging.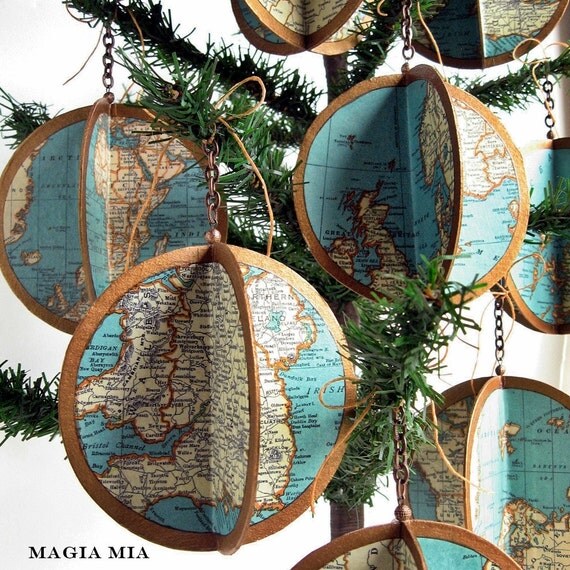 I can never get tired of playing with glitter, paper, paint and glue......can you?
Turquoise and Bronze, how do I love thee?...................
Linking To: